The FCC has opened a third application filing window to award at least $1 billion in Emergency Connectivity Fund (ECF) support.
We have created a PDF that addresses the top 7 concerns and questions around the ECF.
The federal government has made over $190 billion available in funding to help meet student learning needs such as conducting activities to address the unique needs, providing supplemental learning, and purchasing education technology.

Investments made today will impact education decisions well into the future. Our Educational Funding Guide can help you in your decision-making process, including a check-list of what to consider before making any ed tech and support service selections.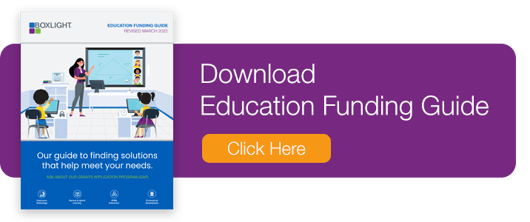 Do you know what you need and when you need it? Boxlight has a dedicated team to help you navigate funding information and applications headed by Dr. Don Gemeinhardt, Director of Strategic Grants and Finance Development. Dr. Gemeinhardt has the experience and know-how to assist your school or district's grant efforts, bringing you closer to the products and services you need to help students today and tomorrow.
We're here to help you choose and implement the ed tech learning solutions that best fit your needs. Contact us today and we can help you get started.



Boxlight, a US Company