Thank you for your interest in the webinar,

MimioConnect's PLN: Join Our Flagship Community
Mimio Webinar Recording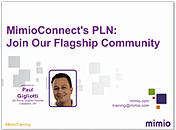 We're making this webinar available for those of you who missed it or want to view it again.
In our recent webinar, MimioConnect's PLN: Join Our Flagship Community, High School Social Studies Teacher Paul Gigliotti discussed the vibrant online community MimioConnect and how it's a dynamic, informative, and fun personal and professional-learning network (PLN) that brings together educators who share an interest in making the most of classroom technology.
You may access the recorded presentation and the questions and answers from the webinar by clicking on the links below. CEU Certificate registration is also available.
Free Collaboration Guide

Collaborative activities for grades K-12
This guide provides helpful information on creating your own collaborative classroom. We offer a number of engaging collaborative lessons, organized by grade level and subject area. All lessons meet the Common Core State Standards, include tips, and can be used with or without educational technology.