Thank you for your interest in our A Robotic Odyssey: How Robotics Is Helping Prepare Students to Be Tomorrow's Inventors, Programmers, and Astronauts webinar
Download the webinar recording and Q&A
We're making this webinar available for those who missed it or want to view it again!

In this webinar, Stephen Barker (VP of STEM Education at Boxlight) and Jim Christensen (Executive Director of the Aldrin Family Foundation's ShareSpace Education) explore how robotics programs can help students develop an understanding of real-world, STEAM-based concepts while promoting communication, collaboration, creativity, and critical thinking skills. Listen to discover how these programs can help prepare today's students to be tomorrow's pioneers in science and space.

You may access the recorded presentation, along with a list of questions and answers from the webinar, by clicking on the links below:
Free NEW Big Guide to STEM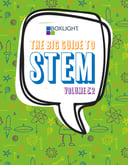 A focus on STEM learning is necessary in order for students to be competitive in the future job market. In fact, STEM occupations are growing at a rate of 17%, compared to 9.8% in other professions. It's time to make STEM a priority for all students. In this guide, we discuss the many ways to incorporate STEM learning in the classroom.

Simply fill out the form to download our valuable guide now!