Be the first to know about our partnership's newest developments and programs.
Since the Apollo 11 moon landing 50 years ago, generations of school children have seen how the real-world application of science, technology, engineering, arts, and math (STEAM) can lead to awe-inspiring achievements. Boxlight, the Aldrin Family Foundation, and ShareSpace Education (SSE) are partnering to provide K-12 schools with innovative educational tools for STEAM learning.
As part of this partnership, Boxlight will integrate ShareSpace's Giant Moon Map™ and Giant Mars Map™ programs into the Mimio MyBot educational robotics system. Boxlight and SSE will join forces during the 2019–20 school year to offer the solution to K-12 districts and schools across the United States, with a focus on reaching underserved urban communities.
We are in the process of developing these innovative STEAM programs to help students develop core skills in programming, engineering, and robotics.
Simply fill out the form and be the first to know about our latest developments and resources.
Explore outer space with ShareSpace Education and Mimio MyBot

The Mimio MyBot system helps students develop core skills in programming, engineering, and robotics. It includes the Wi-Fi enabled Fusion™ robotic controller, an easy-to-use interface, educational content, and an extensive set of building components. Learn more now.>>
In addition, the system will include SSE's Giant Mars Map and Giant Moon Map. The interactive space map programs feature authentic, engaging lessons and activities that help children develop an understanding of real-world, STEAM-based concepts while promoting communication, collaboration, creativity, and critical thinking skills.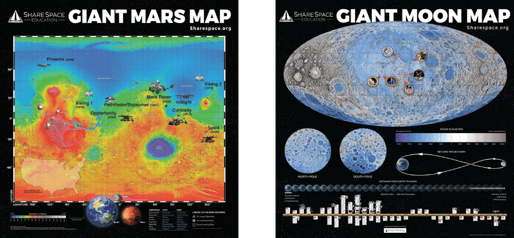 To learn more about the Giant Moon and Mars Map programs, visit the ShareSpace website. To see the Mimio MyBot robotics system in action, visit the Mimio MyBot product page.