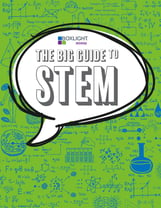 NEW: The Big Guide to STEM
A focus on STEM learning is necessary in order for students to be competitive in the future job market. STEM occupations are growing at a rate of 17%, compared to 9.8% in other professions. It's time to make STEM a priority for all students. In this guide, we dive into the many ways to incorporate STEM learning into the classroom. Download your copy today for:
Best practices to engage students in STEM.
Top 10 STEM resource lists to help you do everything from finding the perfect math app or funding opportunity to staying inspired with STEM blogs and online communities.
A how-to guide for creating hands-on STEM lessons.
And much more!
Simply fill out the form to download our valuable STEM guide!

Want to experience how Boxlight can help you select, implement, and get tech used in your classrooms? Request a demo with one of our technology experts.