STEM Education Solutions
The key to students' success is not only to learn science, technology, engineering, and math, but also to understand how those disciplines apply to the world around them. At Boxlight, we have compiled solutions and resources to help you easily and effectively bring STEM learning to your schools and students – and get students excited about STEM!
3 STEM Products | One Curriculum Platform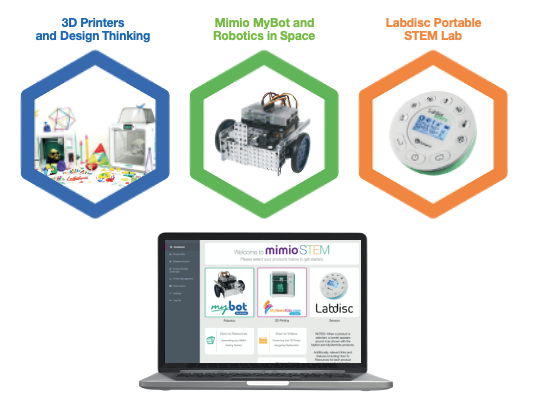 Robo 3D Printers: Built specifically for education and featuring easy-to-use software, a flexible heated print bed, a HEPA filter, and a full enclosure, they ensure you can easily, safely, and effectively bring 3D printing to your school. From enhancing engineering design to supplementing core classes, these printers can inspire and prepare your students for a multitude of 21st century careers.


MyBot Robotics: From an all-in-one design with easy-to-use software to STEM-integrated challenges that develop your student's programming skills from beginner to advanced, the MyBot solution makes integrating robotics easy. Expand beyond the classroom with our Space Bundles developed in partnership with ShareSpace Education. Pairing ShareSpace Education's Giant Maps and our robots with project-based-learning lessons, these bundles enable your students to learn not only about the Moon and Mars, but also about map reading, topography, geology, programming, and teamwork.


Labdisc portable STEM lab: A wireless data logger that includes up to 15 sensors in each unit so a complete STEM lab can fit in the palm of your hand. This takes inquiry-based learning to a new level! There are 4 varieties to choose from so you can choose the lab optimized for your subject: Gensci, Biochem, Enviro, & Physio.


MyStemKits: MyStemKits.com is the online platform for all your MimioSTEM curriculum. From ready-to-print 3D models, STEAM design challenges, and virtual STEM kits, to lesson plans for the MyBot robots and Labdisc portable sensors, MyStemKits has everything you need to get started using your MimioSTEM products right away. Includes more than 350 lesson plans and engineering design challenges comprising of STEM-related topics, with a Math and Science focus.
Educators love Boxlight STEM solutions. See what they have to say: