Experience What's New From Boxlight at ISTE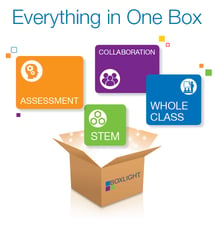 Visit us at booth #1910 to see a demo of our new MimioFrame™ touch board kit, MimioSpace™ ultra-wide collaborative space, and ProColor touch table—the latest additions to our line of whole-class and collaborative solutions. We will have daily sessions, presented by expert educators and a technologist, covering the key learning areas of whole-class, collaboration, STEM, and assessment. Plus, each day you'll have a chance to win a MimioFrame touch board kit for your school. See how easy it is to use our MimioStudio™ classroom software! Bring an existing lesson (PPT, SMART, Promethean, or IWB files) to the MimioConnect station, where we will show you how you can open and edit the file within our software.

We look forward to seeing you at ISTE in Chicago!
Win a MimioFrame Touch Board Kit
Each day, we will be giving away one of our newest products—the MimioFrame touch board kit. This innovative technology includes our MimioStudio™ classroom software, so you can create interactive lessons, collaborative activities, and perform assessments. All you need to do is attend a presentation or get an in-person demo and you'll be entered to win. We will do a drawing* at the end of each day to see who will be bringing this innovative touch technology to their classroom.
Want to increase your odds? Bring a friend or colleague with you to the booth and you can both earn a bonus entry!
* You must be present at the drawing to win.
Get Social and Win
Get in the right frame of mind with MimioFrame! Stop by booth 1910 and take a selfie with our newest tech tool—the MimioFrame touch board kit—and you could win one for your classroom. With just one selfie, you could get touch technology that turns your whiteboard into a touch board in under 15 minutes using your current projector and computer.
Simply post your MimioFrame selfie to our Facebook page or tweet using #WinMimioFrame. We will select a winner every day at ISTE!
Customer Profiles
We will feature educators providing insights into how technology impacts learning and engagement in their classrooms. These personal stories are not to be missed!
"The Odd Couple"
Atlanta Public School Secrets to Success: Instructional technology and information technology are the perfect pairing for a successful 21st Century Classroom implementation. Aleigha Henderson-Rosser, Executive Director, Instructional Technology and Femi Aina, Executive Director of Information Technology will outline the process to procure LED Panels and create a 21st Century 4 C's Learning Environment conducive to innovative teaching and learning.
June 25th & 26th, 10:30 AM
"Framing" the Future
Jonathan Woofter, Network Analyst, discusses how revolutionary technology met the unique demands of a 47,000 student district and increased student engagement and achievement.
June 25th & 26th, 11:30 AM
Session Schedule and Descriptions
See complete session schedule.>>
Whole-Class Sessions
It's Not You, It's Me: Finding Your Match in a Sea of Whole-Class Tools
When it comes to technology, how your teachers and students will use a solution is more important than how many bits or lumens it has. From engaging software to collaboration features, we'll show you how to find the right whole-class solutions for your classroom.


Tech That Works Together Works for You
See how easy it is to move from a lesson to collaboration to assessment—after all, when it's easy and everything works together, your teachers will love using it!


When Your Frog Becomes a Prince
Discover for yourself just how easy it is to pull content you already have (SMART, Promethean, PowerPoint, etc.) into MimioStudio and turn it into an engaging, collaborative lesson.
STEM Sessions
Make the Digital Classroom Explosive With Chemistry (for all grade levels)
Experience how you can integrate explosive experiments, assessment, and collaboration. We make hands-on chemistry experiments easy!


Get Real With Enviro Science
See how you can enhance your science lessons with experiment data, giving real-world application to your experiments to help students understand the impact of each lesson in their environment.
Have Science, Will Travel
Discover how you can help bring the science lab anywhere and perform experiments on the go—for all students from K-12.
Collaborative Sessions
Designing the Collaborative Digital Classroom
Learn the best practices for creating an interactive digital classroom that encourages collaboration. In addition, get a preview of technology and devices that can make collaborative learning more engaging.


Lesson Renovation
Learn how to take your current lessons and easily add interactivity, collaboration, and even assessment, giving your current content a 21st century makeover!


I Can Teach You 5 Tech Tools in 5 Minutes
Are you hesitant to introduce new tech into your classroom? See for yourself how quick and easy it is to learn the five most important tools within our classroom software!
Assessment Sessions
Did They Get It?
Learn how the whole-class, assessment, and small group/individualized learning cycle is key to student success, and experience how easy it is to incorporate into your classroom.


Your School's Mobile Devices: The Veg-o-Matic of Learning Tools
See how you can use a wide range of mobile devices for all types of assessment. We will show you that it's easier than you think!

Session Schedule
We will have two classroom areas running presentations all day:
In our main theater, we'll have scheduled sessions on the hour and half hour

In our classroom area, you can get a presentation at any time!
No matter when you stop by, you'll have the opportunity to see one of our whole-class, collaborative, STEM, or assessment sessions.
Our Presenters
Travis Rink (Assistant Principal, Eisenhower High School, Goddard, KS)
Travis is a tech expert and educator, training manager, and educational technology professional with a combined 21 years of classroom teaching experience, as well as four years in a professional development corporate setting as a global training manager.

---

Paul Gigliotti (Teacher, Cleveland, OH)
Paul represents the best of the best. With over 17 years in the classroom, he fires the imagination of students every day through his passion for social studies and educational technology. With accolades that include the Ohio Middle School Teacher of the Year Award (2008), Paul brings a wide variety of talents to the team. He has been a national conference speaker and an adjunct professor, and has published a paper on "Preparing to Use Technology."

---

Claire Pavia (Teacher, Hinckley-Big Rock Elementary School, IL)
Claire is a 17-year teaching veteran who was once nominated for Teacher of the Year in the Northern Illinois District. She has coordinated the implementation of all classroom instructional technology—including interactive whiteboards, document cameras, and student response systems—and provided training for teachers.

---

Lindy George (Instructional Technology Specialist, FL)
Lindy works throughout her district to support teachers in the effective integration of technology in the classroom. In her 33 years in education, she has been a classroom teacher and a curriculum specialist.

---

Christine Roberts

(Teacher, Woodhaven, MI)


Christine has been teaching elementary students for the last 15 years. This is her first year teaching with Boxlight, and she is learning something new every day. Not only does she work hard with the integration of technology in the classroom, she also helps with the training of her team.

---

Kate Piland

(Technology Integration Trainer, Great Bend, KS)
Kate works with and trains teachers on a variety of technology solutions. She taught art, computers, and careers at the middle school level before becoming a technology integration coach. Kate has a passion for working with teachers and developing classroom solutions that meet their needs.

---

Tanika Perry-Vincent

(Educational Technology Specialist, Atlanta, GA)
A 23-year Spanish (IB and STEAM) teaching veteran, Tanika trains teachers, students, and leadership teams on the best ways to use instructional software and hardware to encourage interactive engagement while improving student achievement.
Want to set up an appointment with one of our technology specialists at ISTE?
Fill out the form and we will contact you to schedule a one-on-one demonstration.