Thank you for visiting Boxlight at ISTE 2018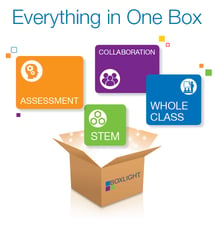 Thank you for stopping by the Boxlight booth and experiencing our newest learning solutions! Our new products allow schools to acquire whole-class and collaborative solutions that fit their classrooms and budgets. If you would like more information on the new software and technology featured at ISTE, simply fill out the form and we will contact you shortly.
Want to set up an appointment with one of our technology specialists?
Fill out the form and we will contact you to find the right solution for your learning and technology goals.

In case you missed it, we featured:
MimioFrame touch board kit: Turn your existing whiteboards into touch boards with this exciting new retro-fit technology.


MimioSpace collaborative system: Create an expansive 32-touch area with Touch 360° interactivity—students can work together in an area almost 11 ft wide and over 4 ft tall, making collaborative learning at the front of the classroom a reality.


ProColor interactive touch table: Collaborate in small groups at a 49-inch interactive touch table with 12 single-point users or six dual-touch users.


MimioStudio™ classroom software: Create interactive lessons, collaborative activities, and perform real-time formative assessment. The new software enhancements allow you to embed web pages and accommodate an even broader range of third-party whiteboard lesson files.
We welcome the opportunity to show you the exciting new Boxlight classroom, better understand your instructional needs, and work with you to determine which solutions will best fit your educational environment, curriculum, current technology setup, and budget.
Thank you again for stopping by and experiencing what the classroom can be with Boxlight!