Experience What's New From Boxlight at ISTE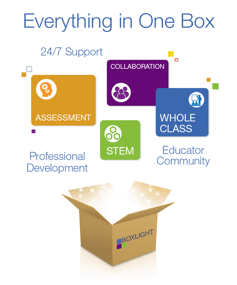 Visit us at booth #2622 to see a demo of our new Mimio MyBot educational robotics system, a preview our new audio system, and MimioInteract activities for the ProColor touch table—the latest additions to our collection of innovative solutions. We will have daily sessions presented by expert educators and a technologist covering the key learning areas of whole-class, collaboration, STEM, assessment, and professional development. You'll also have the opportunity to see exclusive previews of our newest software features and applications. Plus, you'll have a chance to win a Mimio MyBot for your school!

We look forward to seeing you at ISTE in Philadelphia!
Win a Mimio MyBot Educational Robotics System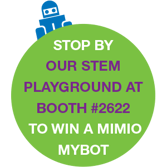 Each day, we will be giving away one of our newest products—the Mimio MyBot robotics kit. You can earn entry tickets by:

• Sitting through a Boxlight live presentation
• Attending a personal product demo or interactive game
• Playing with the MyBot or Labdisc in the Boxlight STEM Playground
• Bringing back a colleague who attends one of the above

You'll earn one ticket per activity and there's no limit to your quantity of entries. Simply submit your ticket into the bin prior to the drawing to enter. There will be one onsite drawing per day: June 24 at 4:45pm, June 25 at 3:45pm, and June 26 at 12:45pm.

Get Social and Win
Want another shot at winning? Post a picture of the MyBot on social media using the hashtags #BLISTE2019 and #ISTE19 and tag @BoxlightInc (Twitter) or @BoxlightUSA (Facebook). One winner will be randomly selected and announced on social media on Wednesday, June 26 at 3:00pm.
Entrants agree to grant Boxlight use of name and/or likeness in social media posts or marketing. Please allow eight weeks for delivery of MyBot.
*Please note that you must be present to win—the drawing will continue until a winner is present.
Customer Profiles
Join us as we feature educators providing insights into how technology impacts learning and engagement in their classrooms. These personal stories are not to be missed!
Empowering Students in STEM Education Using Robotics and Space Exploration


The ShareSpace Foundation strives to inspire students in STEM through their engaging Giant Mars and Moon maps. Learn more about the space maps and how the foundation is using Mimio MyBot system to bring space activities to a new level.
Attend this session on Monday at 3pm or Tuesday at 11am

Jim Christensen, Executive Director, ShareSpace Foundation

Teacher Support: The Key Ingredient for a Successful Digital Classroom
Learn how Clayton County's tech experts, April Mayo and Rod Smith, survived and thrived with their 3,200 digital classroom refresh. They will share best practices and what they learned from this experience in their large district. Read and watch more about Boxlight and Clayton County Public Schools.
Attend this session on Monday at 4pm, Tuesday at 10am or Wednesday at 11am



April Mayo, Ed. S., Director of Instructional Technology, Clayton County, GA




Rod Smith, M.Ed, Chief Technology Officer, Clayton County, GA

Sessions
Technology and Teachers: A Match Made in Heaven? Or Doomed for Disaster?
Has your relationship with technology lost its spark? Are things beyond troubleshooting? Did you never really connect in the first place? Most teachers are somewhere in between when it comes to evaluating their relationship with technology. Learn how you can help strengthen the relationship, no matter what state it is in, between teachers and their technology.
Tech That Works Together Works for You
See how easy it is to move from a lesson to collaboration to assessment—after all, when it's easy and everything works together, your teachers will love using it!
Have Science, Will Travel
Discover how you can help bring the science lab anywhere and perform experiments on the go—for all students from K-12.
This Robot Was Made for Coding!
See how easy it can be to incorporate robotics and coding into your curriculum with the Mimio MyBot system. Ready. Set. Build!
Designing the Collaborative Digital Classroom
Learn the best practices for creating an interactive digital classroom that encourages collaboration. In addition, get a preview of technology and devices that can make collaborative learning more engaging.
I Can Teach You 5 Tech Tools in 5 Minutes
Are you hesitant to introduce new tech into your classroom? See for yourself how quick and easy it is to learn the five most important tools within our classroom software!
This session will include an exclusive preview of our new online MimioXT classroom software!
Schedule
Our two classroom areas will be running EdTech presentations all day:
In our main theater, we'll have scheduled sessions on the hour

In our STEM Playground, you can get hands on with our robots, Labdisc STEM lab, and other innovative technology at any time!
No matter when you stop by, you'll have the opportunity to see one of our whole-class, collaborative, STEM, or assessment sessions. See complete schedule.>>
Exhibit Hall Dates and Hours
Monday, June 24 - 9:30AM - 5:30PM | Tuesday, June 25 - 9:30AM - 5:00PM | Wednesday, June 26 - 9:30AM - 2:30PM
Our Presenters
Travis Rink (Assistant Principal, Eisenhower High School, Goddard, KS)
Travis is a tech expert and educator, training manager, and educational technology professional with a combined 21 years of classroom teaching experience, as well as four years in a professional development corporate setting as a global training manager.

---

Paul Gigliotti (Teacher, Cleveland, OH)
Paul represents the best of the best. With over 20 years in the classroom, he fires the imagination of students every day through his passion for social studies and educational technology. With accolades that include the Ohio Middle School Teacher of the Year Award (2008), Paul brings a wide variety of talents to the team. He has been a national conference speaker and an adjunct professor, and has published a paper on "Preparing to Use Technology."

---

Claire Jones (Teacher, Hinckley-Big Rock Elementary School, IL)
Claire is a 19-year teaching veteran, served on the district technology committee, and has coordinated the use of classroom technology, including interactive whiteboards, document cameras, student devices, and student response systems.

---

Lindy George (Instructional Technology Specialist, FL)
Lindy works throughout her district to support teachers in the effective integration of technology as well has district-wide STEAM initiatives. In her 39 years in education, she has been a classroom teacher and a curriculum specialist. Lindy is a MimioMaster, Boxlight certified trainer and an avid MimioStudio user.

---

Alison Ambroso

(Trainer Coordinator, Boxlight-EOS)


Alison has over 10 years of experience in education. She has completed a Postgraduate Certificate of Education from Keele University, various certifications in training and development, and a Master's of Learning and Development. Alison specializes in utilizing technology to make learning accessible to all learners.




---
Want to set up an appointment with one of our technology specialists at ISTE?
Fill out the form and we will contact you to schedule a one-on-one demonstration.