Boxlight Podcasts: Voices of Education Series
Listen to our conversations with education leaders as they discuss how technology and the design of the learning environment impact student success and motivation. Real stories. Real insights. Real leaders.
LET CURRICULUM DICTATE HOW TECHNOLOGY IS USED
JULIE GARCIA, PROGRAM MANAGER FOR INSTRUCTIONAL TECHNOLOGY, SAN DIEGO UNIFIED SCHOOL DISTRICT
Technology often dictates curriculum rather than curriculum dictating the use of technology. Julie Garcia, Program Manager for Instructional Technology at the San Diego Unified School District, discusses how her large school district has implemented Boxlight technology for students and teachers. She talks about how the creation of 21st century interactive classrooms gave educators more tools to teach high-quality curricula.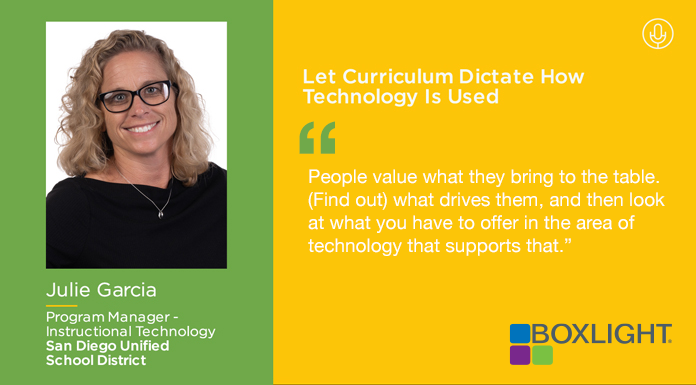 TIPS FOR HELPING TEACHERS FEEL COMFORTABLE WITH TECHNOLOGY
CHRISTA GLEMBOCKI, DYWER MIDDLE SCHOOL PRINCIPAL
As more and more technology comes into the classroom, there are always challenges in learning and effectively training staff and teachers how to use the technology. In this education technology podcast, Principal Christa Glembocki from Dywer Middle School discusses how she deployed technology at her campus and helped apprehensive teachers make the transition confidently.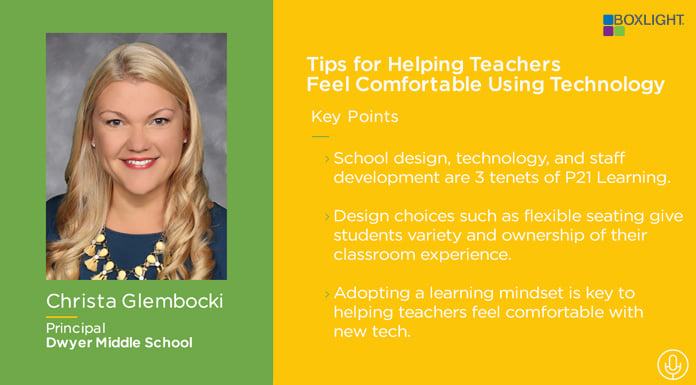 ROBOTS IN THE CLASSROOM AND ON THE RED PLANET
JIM CHRISTENSEN, EXECUTIVE DIRECTOR OF THE SHARESPACE FOUNDATION
Jim explains what's changed and what hasn't inside America's elementary schools. He describes a hopeful future of integrating robots with augmented reality technology, like the innovative technology provided by Boxlight, to allow students to learn differently. Christensen, the former director of education at the Kennedy Space Center Visitor Complex, describes how robots will be crucial to future missions to Mars. He believes our species will rely on machines for recon, to build bases before humans arrive, and to operate them as well.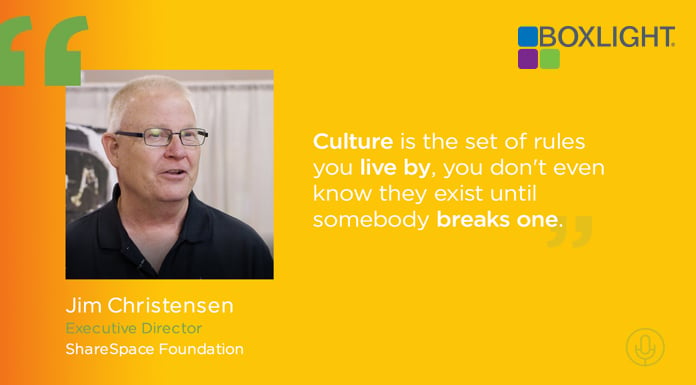 MAKING ROBOTICS EASIER TO IMPLEMENT IN STEM CLASSROOMS
TRAVIS RINK, BOXLIGHT EDUCATOR ADVOCACY LEADER
"Robotics kits are becoming a standard teaching tool in the classroom, but there's still a lot of complexity and cost associated with incorporating this popular STEM tool," said longtime educator and EdTech expert Travis Rink. As a science teacher, Rink worked with Boxlight's various professional development and classroom tools. Now as the Boxlight Educator Advocacy Leader, he manages global training programs. Boxlight's latest tool is the Mimio MyBot educational robotics system, developed to fulfill a need in robotics and coding in the classroom without the added complexity common in most systems.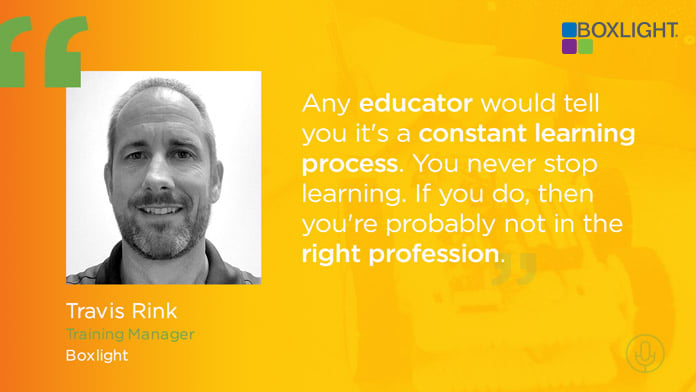 RETHINKING THE CLASSROOM AND TAKING DESKS OUT OF THE EQUATION
JON CORIPPO, CHIEF LEARNING OFFICER, CUE
We all have in our minds what a classroom looks like—desks, structure, all eyes to the whiteboard, or screens at the front. While technology has undoubtedly woven its way into the modern classroom, has it truly enhanced the experience of students? What's next in revolutionizing the classroom? To offer insights, we're joined by Jon Corippo, Chief Learning Officer at CUE.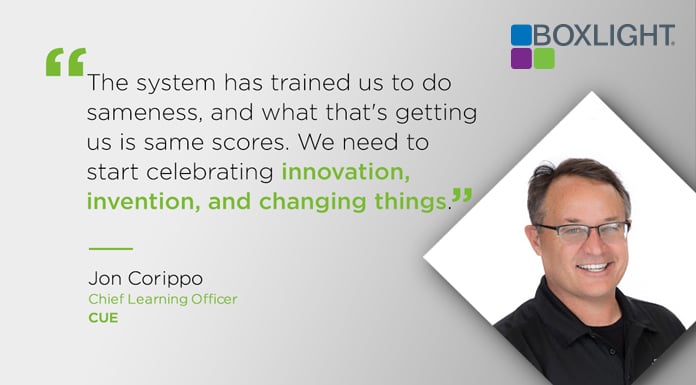 BRINGING NEW TECHNOLOGY TO A SCHOOL DISTRICT OF 7,000
RACHELLE BUTZ OF MONROE DISTRICT SCHOOLS
What do you do when technology in your school district is outdated, inaccessible to all students, and only in their hands a few times a month? In this digital age, it's unacceptable.

This was the exact problem faced by Rachelle Butz, executive director of digital learning for Monroe District Schools in Washington. On this podcast, she discusses the process of integrating brand-new technology across a school district of 7,000 students, as well as how Boxlight helped guide them to success.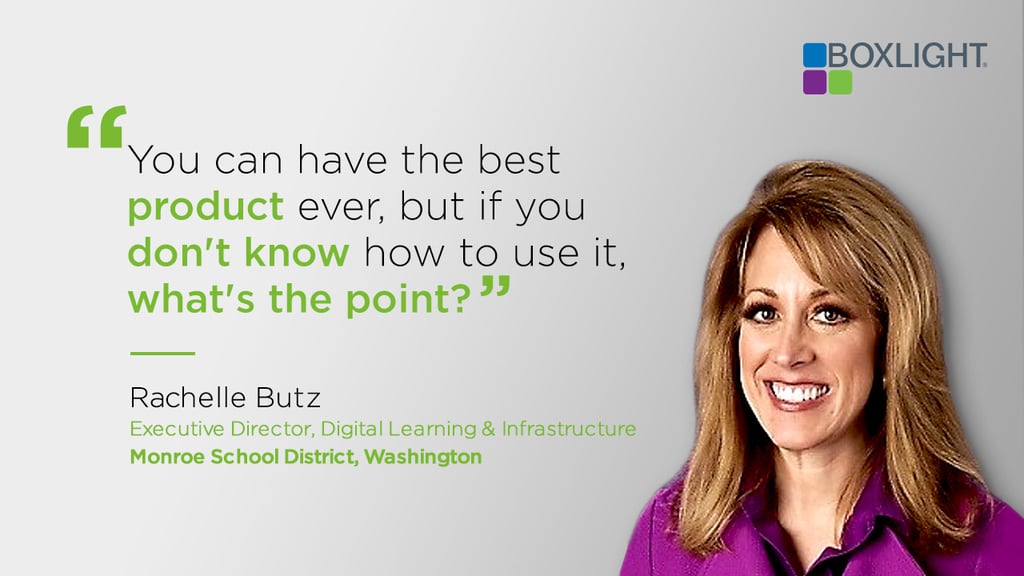 TAKING SCHOOLS TO THE 21ST CENTURY
GREGORY HAULK OF HUNTINGTON BEACH CITY SCHOOL DISTRICT
Technology is rapidly growing and changing, impacting the way we interact with the world on a day-to-day basis. But for many schools, charging forward into the 21st century has been an expensive and challenging endeavor.

Listen as Gregory Haulk, superintendent of Huntington Beach City School District, discusses how technology is allowing students to take more influence into their learning beyond the textbook.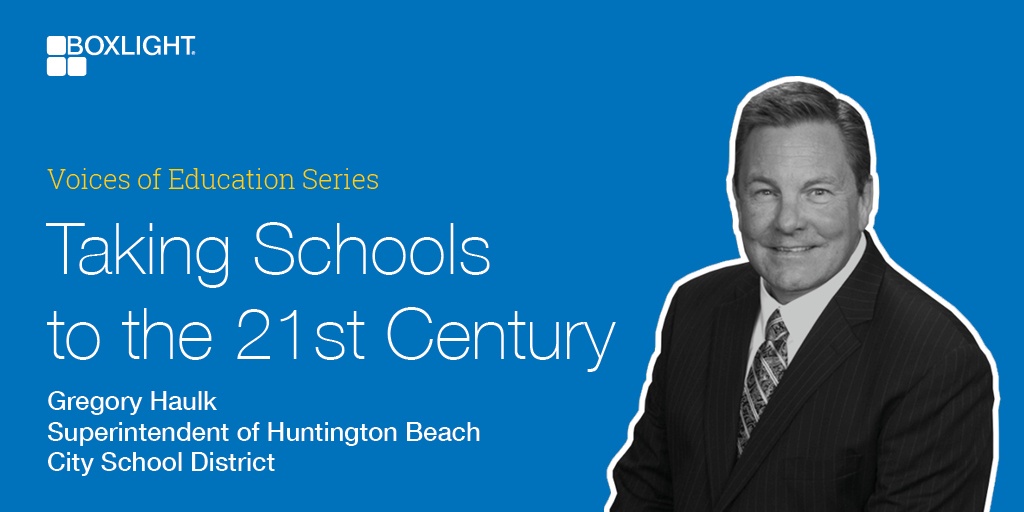 EMBRACING THE INTEGRATED, INTERACTIVE CLASSROOM
ROD SMITH OF CLAYTON COUNTY PUBLIC SCHOOLS
More and more educators are finding innovative ways to bring emerging tech to the classroom. Rod Smith, CTO of Clayton County Public Schools in Georgia, talks about how he has implemented technology in his school district, what the "Digital Classroom Refresh" project has done for the community, and how Boxlight is helping bring students and teachers together—both inside and outside of the classroom.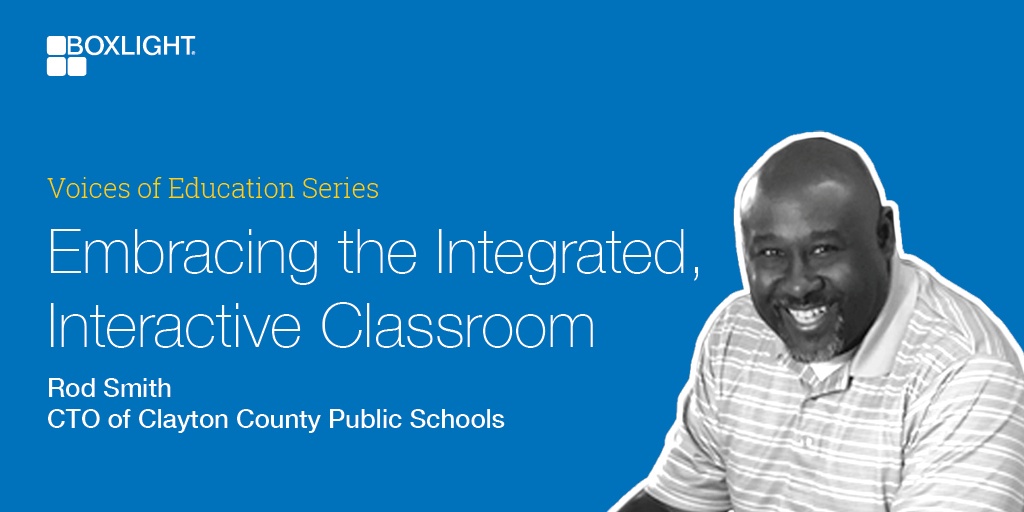 SOLID SCHOOL FOUNDATIONS, FROM BRICKS TO TECH
JILL PIERCE OF MCMINN COUNTY SCHOOLS
When we talk about bringing tech into the classroom, a lot of the conversations focus on emerging innovations: AI, VR, 3D printing, etc. But what about using technology to solve some of the simplest classroom issues, like sight and sound? We sit down with Jill Pierce, CTO for McMinn County Schools, to discuss how suiting technology to each student's needs in a financially responsible way ensures McMinn County's technology can continue to build on a solid foundation.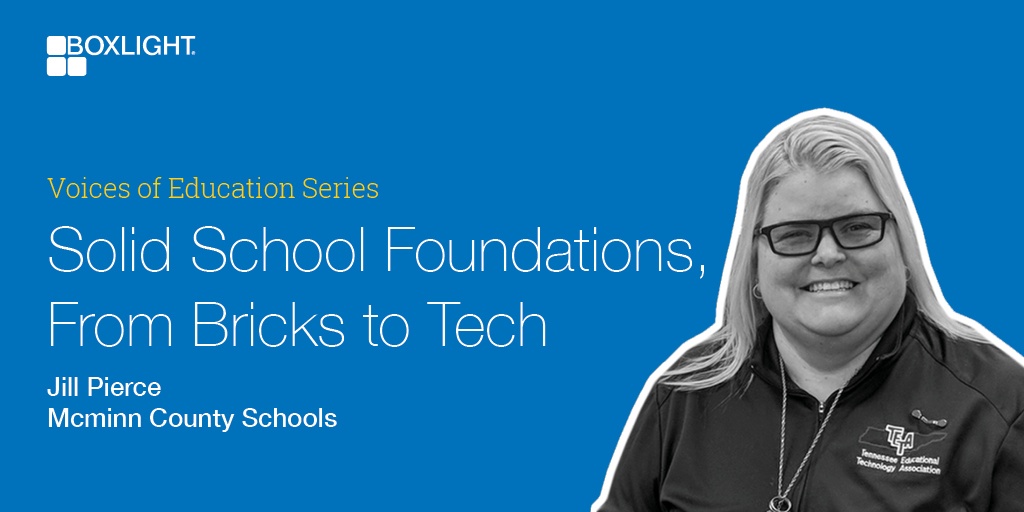 How do you dig through all the jargon and hype to find the right solution for your curriculum, teachers, students, and budget?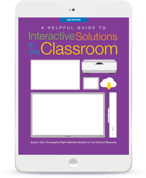 As you strive to find ways to better engage students and motivate learning, using interactive technology in the classroom is key. The search for the right interactive solution—one that offers clear images, touch technology, collaborative abilities, seamless integration, and fits your budget—can be daunting.

Simply fill out the form to download our guide and discover the key factors for selecting the right front-of-classroom and student technology.